Healthy Vanilla and Cranberry Cookies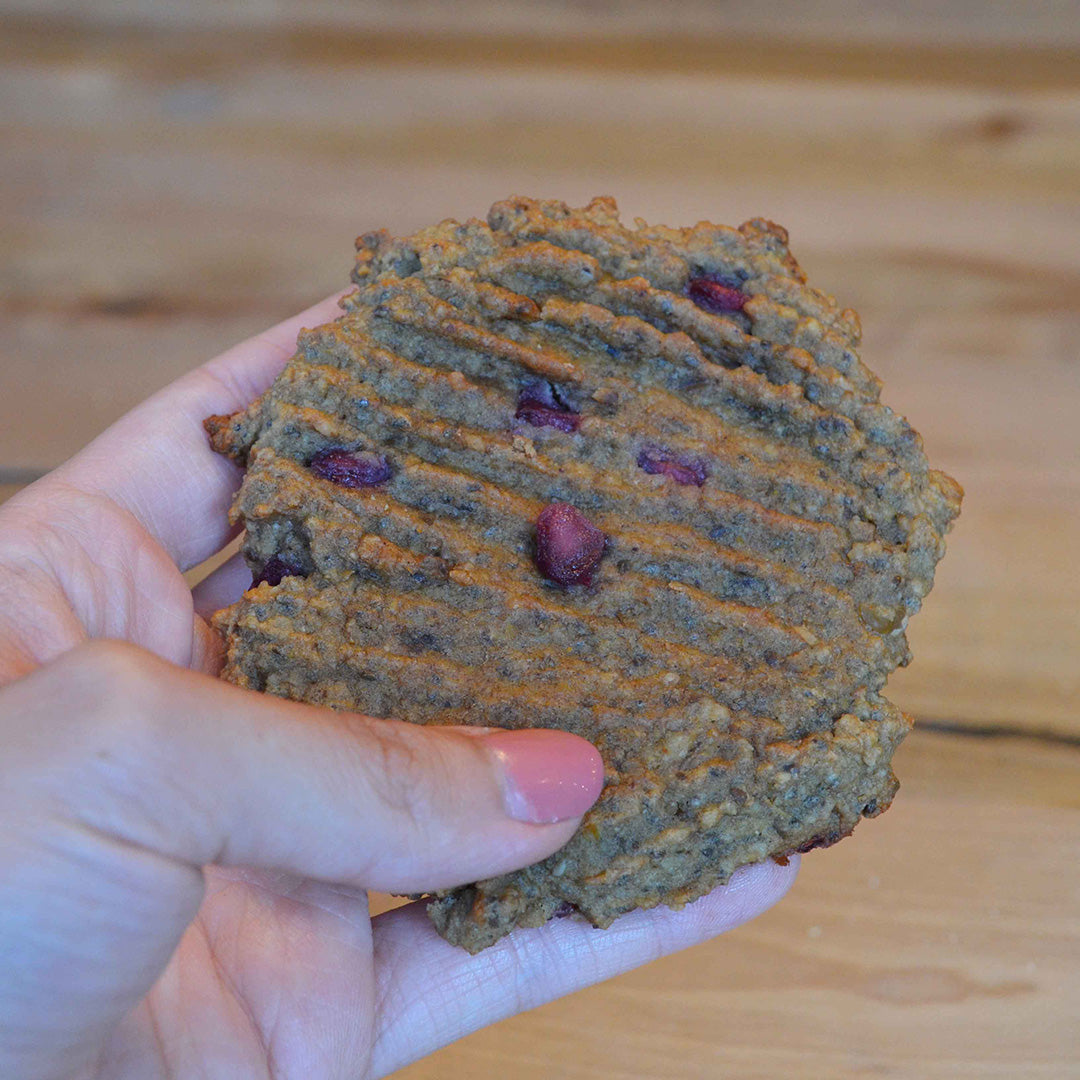 EASY AND HEALTHY VANILLA AND CRANBERRY COOKIES
This recipe is our founder's favorite. The taste of the vanilla mixed with the sourness of the cranberries is just perfect. These cookies are both light yet filling and flavorful. There is no artificial sugar added here, so you can indulge without feeling guilty.
Time: approximately 25 minutes
Serving: 16 cookies
Ingredients:
1 cup of whole wheat flour
1 cup of oat flour (simply use a blender to turn oats into flour)
1 tsp of baking soda
1 tsp of baking powder
1/4 tsp of salt
2 tsp of 100% Pure Water-Extracted VANILLA Finest Powder 
12 dates (approximately 1 cup)
1/2 cup of hot water
2 tbsp chia seeds
2 tbsp ground flax seed
1/2 cup of vegan milk
1/2 cup of frozen cranberries
Steps:
1. Preheat the oven to 380 °F (195°C) and put the oven rack at the top. Line two baking sheets with parchment paper or a reusable baking mat.
2. Mix all dry ingredients together in a bowl (whole wheat and oat flour, baking soda, baking powder and salt) using a spoon. Add the 100% Pure Water-Extracted VANILLA Finest Powder to the mix.
3. Using either a blender or a fork, combine the dates and the water to turn it into a pure.
4. In a separate bowl, combine the date pure to chia and flax seeds and vegan milk. 
5. Pour the wet ingredient unto the dry ones and mix until combined. 
6. Add the frozen cranberries to the mix and stir lightly.
7. Form approximately 16 balls and put them on the baking sheets. Using a fork, press them down to form cookies.
8. Put the cookies in the oven for 15 to 20 minutes, or until the consistency is to your liking.
9. Enjoy while still hot 😋
If you enjoy your Vanilla Water-Extracted Finest Powder and our services, please feel free to leave your honest review. ⭐⭐⭐⭐⭐
Review on Amazon
Do not hesitate to contact us if you have any questions or suggestions to improve our offer.
---